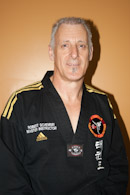 Master Instructor – 7th Dan Kukkiwon
Robert Schembri has over 40 years of experience in Taekwondo and is still competing in Sparring, Poomsae, Breaking and other Technical events. Rob has won many State, National and Masters Championships along with competing in International events such as the 2010 International Korean Festival winning a Silver Medal against an International field in Divsion A.
He won a Gold medal in the first ever ATA national games in sparring.
Over the years he has filled many roles in Taekwondo:
State Technical Director Victoria.
International Technical Coach for Commonwealth Championships India 2011.
He is currently a Poomsae Judge Presentor & Trainor for Taekwondo Australia.