Schembris Taekwondo Team of 22 attended the Games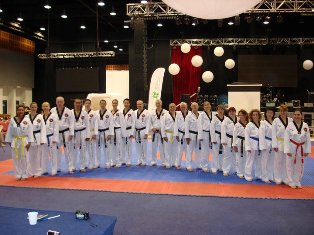 At the recent Pan Pacific Masters Games held on the Gold Coast, over 10,000 competitors from the pacific region congregated to participate.  Once again taekwondo was one of the 34 sports included in the nine days of events.
Our most successful Master Games yet !! Our accumulated total of medals:
Gold: 38
Silver: 30
Bronze: 18
Schembri's have been making the journey north to participate in the Pan Pacific Masters for the past ten years.  For some of our team, it was the first time they had participated at the Pan Pacific or any competition, for others like Rob Schembri, Head Instructor it was the sixth time he had competed.
The Pan Pacific Masters has a more relaxed atmosphere than other tournaments.  It provides the perfect stepping stone for the older taekwondo players, new to the sport thinking about competing.  There is the opportunity to socialise with fellow taekwondo competitors as well as competitors from other sports.  As a club, we entered for the competition and to have fun.
A great recognition of the success we had on the day was awarded to Schembris Taekwondo for the 'biggest Taekwondo Group' in the tournament.
Well done to everyone – fantastic effort.